CLICK HERE TO CONTACT A SOUTH CAROLINA PERSONAL INJURY ATTORNEY
EVALUATING YOUR PERSONAL INJURY SETTLEMENT
A personal injury settlement results from the negligence of another party that required you to seek medical attention.  Your first step is to have a doctor conduct an examination and begin the appropriate treatment. The settlement process cannot actually begin until you have reached what is called MMI or Maximum Medical Improvement. The American Medical Association defines MMI as
 The point at which a condition has stabilized and is unlikely to change (improve or worsen) substantially in the next year, with or without treatment. While symptoms and signs of the condition may wax and wane over time, further overall recovery or deterioration is not anticipated. However, both the name given to and exact definition of this status may vary depending on the jurisdiction."
In layman's terms MMI means that you are unlikely to improve further but may need to continue medical care such as doctor visits, tests, prescription medications, etc. After your doctor has determined that you have reached MMI, your attorney can begin the negotiation process with the insurance company. The problem is that reaching MMI can sometimes be a long process and your case can take years to reach a settlement or go to trial.
YOUR DAMAGES
Your "out of pocket"  damages are usually fairly easy to calculate and consist of your medical expenses, lost wages, property damage, and any other actual economic loss that you have suffered because of the defendant's negligence. Your future economic damages such as medical expenses and loss of earnings are harder to prove and usually require expert testimony. The other part of your damages is called "pain and suffering". While you can expect the insurance company to challenge your economic damages, they will absolutely challenge what you contend is adequate compensation for your pain and suffering. Documentation of all of your damages is absolutely essential but especially if you expect to recover anything for your pain and suffering. For more information, see DOCUMENTING YOUR PAIN AND SUFFERING CLAIM.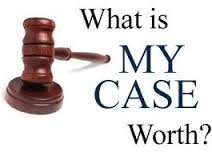 SHOULD YOU ACCEPT THE SETTLEMENT OFFER
The answer is a resounding NO until you fully understand how much you are to receive after the attorney fees, costs, and all of your medical bills are deducted.  Ask your attorney to provide you with a detailed settlement sheet before you agree to a number. You don't want to agree and then realize that you are not receiving enough to pay your medical bills. Here is an actual settlement sheet from an attorney who will go unnamed.
Settlement Amount                 15,300.00
Less Attorney fee and costs    (5,450.41)
Less medical bills                 (12,667.64)
Client owes attorney              $2,818.05
This may have been a perfectly reasonable resolution of the personal injury case since there are numerous other issues to consider such as the degree of fault, whether the medical bills could be negotiated down further, the actual extent of the injuries, whether the attorney would waive the deficiency, etc. Each case depends on the facts and $15,300 could have been a reasonable amount for the specific facts of the case.

For example, you are in an auto accident, are not at fault and have $50,000.00 in actual damages including your medicals and lost wages. The maximum insurance available from the at fault driver is $100,000.00 and the insurance adjuster offers $85,000.00 at mediation. Your attorney tells you that if you go to trial he estimates that there will be an additional $5,000.00 in expenses for expert witnesses, depositions, etc. and it will probably be at least a year before your case would go to trial. The at fault driver has no real assets that could be attached if the jury awards you more than the $100,000.00 so any additional recovery is unlikely. Of the additional $15,000.00 that you are very likely to recover, $5,000.00 will go to the attorney and another $5,000.00 to expenses leaving you only $5,000.00. The insurance adjuster can do the math also and knows that you will likely settle for less than the limits.

The point is that you need to know the final numbers and also carefully evaluate what your recovery could be if you go to trial BEFORE you agree to any settlement.
To contact a South Carolina personal injury attorney, simply click on the link below and answer a few basic questions about your situation.
        CLICK HERE TO CONTACT A SOUTH CAROLINA PERSONAL INJURY ATTORNEY
                                                          NOTICE!!!
This may be considered AN ADVERTISEMENT or Advertising Material under the Rules of Professional Conduct governing South Carolina lawyers. Under no circumstances will sc-personal-injury be held liable for any loss or damage caused by a visitor's reliance on information obtained through this web site or any other communication from us. It is the responsibility of each individual visitor to evaluate the accuracy, completeness or usefulness of any information, opinion, advice or other content. This site is intended to provide you only with general information. However, there is no guarantee that this information is comprehensive or accurate. sc-personal-injury does NOT provide legal, financial, or tax advice. Please consult a professional in these areas. Only an attorney licensed in your state can provide you with legal advice. Links and Ads to third party sites are here for the convenience of site visitors only. The content of any third party site which visit via a link from this site is solely the responsibility of the provider of that web site.
Ask a Car Accident Question

NOTICE: ONLY AN ATTORNEY LICENSED IN YOUR STATE CAN PROVIDE YOU WITH LEGAL ADVICE ABOUT YOUR CAR ACCIDENT